This product line is indicated for the treatment and management of acne by effectively reducing the number of acne pimples and blackheads, and allowing the skin to heal. Daily use of these products will help prevent new acne pimples from forming.
What causes acne?
Acne occurs when the oil produced by the sebaceous glands does not reach the surface of the skin but is trapped in tiny pores and/or hair follicles, causing a plug and forming a pimple.
How does the Dermesse™ Clarifying Program stop acne from forming?
Key ingredients in the program are Salicylic Acid, Alpha Hydroxy Acid and Nonionic Surfactant. These ingredients help unblock pores and open up follicles by promoting the exfoliation of the superficial dead skin cells to prevent the clogging of pores.
Clarifying Cleanser
Designed to cleanse the skin of pollutants that can block pores leading to breakouts. Formulated with herbal extracts and AHA's (Alpha Hydroxy Acid) to penetrate deep into pores to remove dirt, oil, and make-up without over drying skin. This clean rinsing gel leaves skin feeling soft, silky, and refreshingly clean.
Clarifying Toner
Cleans, tones, and refreshes all in one simple step. Designed to balance the skin to it natural pH while helping to maintain a toned, youthful appearance. This aloe based formula will not over-dry skin. Leaves skin feeling cool, clean, and fresh.
Acne Pad Treatment
Contains Salicylic Acid to penetrate and clean pores, glycolic acid to gently exfoliate the upper layer of the skin to reduce clogging, and a nonionic surfactant which works by breaking down the skin oils.
Acne Spot Treatment
A concentrated formula of Salicylic Acid for spot applications to treat areas needing additional attention. Convenient application makes treating blemishes easy and quick.
Acne Drying Lotion
Acne Drying Lotion is an antibacterial treatment lotion designed to reduce the size and severity of acne blemishes. This powerful formula contains 2% Salicylic Acid, which gently exfoliates pore-blocking debris, 10% sulfur which is one of the most powerful drying agents, as well as camphor and zinc oxide to fight acne bacteria and infection. The results are amazing when used as directed.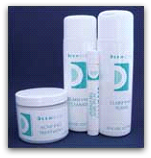 Oil Free Moisturizer
Specially formulated for acne prone skin. This oil free moisturizer is designed to complement the Dermesse™ Clarifying Program. Moisturizes and aids skin to reduce dryness during the healing process.