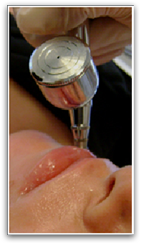 With just one 30 minute smoothing and tightening Atoxelene Infusion®, your expression lines will be visibly reduced, your delicate eye area will be softened and contoured . Not only will your skin be instantly tighter and firmer but your lips will be noticeably plumped and smooth. Engineered to help smooth the appearance and hold fine line and wrinkles, providing a similar effect to cosmetic injections without the pain and down-time. Atoxelene holds the skin without the accompanying paralysis that is found in some cosmetic injections. Visibly reduces the depth of fine lines and wrinkles caused by the contraction of the facial muscle. The Atoxelene Infusion® can be used alone to achieve dramatic results or after a Botox® or Dysport® treatment to enhance and prolong the effect. The Atoxelene Infusion® will significantly increase the results of the Rejuvenate and Opulence Infusion®.
At-Home Treatment Support Product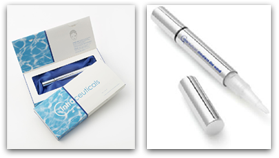 ATOXELENE WAND
Atoxelene Line Wand contains a concentrated skin smoothing complex that targets expression lines and wrinkles without loss of facial expression. Smoothes and visibly reduces fine lines and wrinkles without pain or injections in a portable, take anywhere applicator.
Apply to affected areas around forehead, eyes and smile lines. Use twice daily